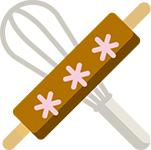 Baked in house daily and made to order to ensure freshness, quality and consistency in every batch.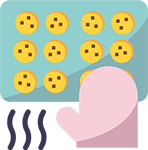 Each and every sugar cookie is decorated by hand with Whimsy magic!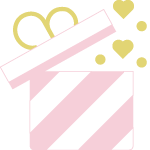 Pick up in one of our locations or shipped to your door from our Memphis Head Quarters.
Why have cake, when you can have Whimsy Cookies!
Our signature sugar cookies, thick, soft and oh so craveable!!
Pick Up & Shipping Notice
​Memphis HQ Shipping & Pick Up
Because our cookies are made to order, we will need at least 3 business days notice for all pick up orders. If you need your cookies shipped, please know that it takes 2-3 business days to make your cookies before they can be shipped. So please expect at least 3 - 4 business days before they will go out during non holidays. Don't forget we begin baking your cookies once an order is received to ensure that you receive the best Whimsy Cookies as possible!! If you need cookies earlier, please don't hesitate to ask, we will do our best to fit your order in, if at all possible! Leave us a message in our notes section at checkout.
Pick Up in all other locations
Because our Whimsy locations make your cookies to order, we will need at least a 3 business day notice on all pick up orders. If you do need an order earlier, it doesn't hurt to ask, we may not be able to accommodate your order, but we will be glad to check our calendar and do the best we can!! Leave us your desired pick up date in the notes section at checkout.
Allergen Notice
All of our cookies are made in a kitchen that handles dairy, egg, tree nuts, wheat, peanuts, soy. Please note that we cannot guarantee that any of our menu items are free of allergens because we share equipment and handle common allergens throughout our bakeries. Ultimately, it is the responsibility of the consumer to check all ingredients.
We are not a gluten free bakery and cannot guarantee cross contamination will never occur.  However, we have a process in place to minimize this from happening.  All of our products are made with the same equipment.  Customers with gluten sensitivities should exercise judgement in consuming these cookies.