Care Packages & Decorating Kits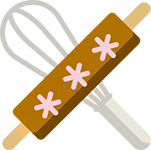 Baked in house daily and made to order to ensure freshness, quality and consistency in every batch.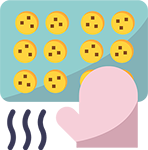 Each and every sugar cookie is decorated by hand with Whimsy magic!
Pick up in one of our locations or shipped to your door from our Memphis Head Quarters.
We at Whimsy Cookie Co stay committed to our community during these uncertain times.  We have created several pre-arranged Whimsy In Home Care Packages for your ease as well as Whimsy Cookie Decorating Kits to be enjoyed at home as a family.
Pick Up & Shipping Notice
​Our Decorating Kits can be picked up or shipped in one day. Same day pick up possible depending on availability. Please contact your local Whimsy to inquire.
Our Care Packages can be picked up or shipped within two days.
Allergen Notice
All of our cookies are made in a kitchen that handles dairy, egg, tree nuts, wheat, peanuts, soy. Please note that we cannot guarantee that any of our menu items are free of allergens because we share equipment and handle common allergens throughout our bakeries. Ultimately, it is the responsibility of the consumer to check all ingredients.