Located in Memphis, TN – Whimsy Cookie Company is a boutique bakery bringing happiness to the world one cookie at a time.
With expertise in designing custom, hand decorated cookies, we pride ourselves in not only delivering impeccably designed cookies, but delicious mouth watering treats as well. Our clients range from little girls' birthday parties to corporate accounts like FedEx, authors Emily Giffin and Maya Angelou and even celebrities Tim McGraw, Reese Witherspoon, Miranda Lambert, Emma Thompson, Emily Blunt and John Krasinski.
Gather Your Ideas, Dates, Names, Colors
We have several galleries to look through for inspiration
Give Us A Call Or Fill Out The Form Below
One of our whimsy Fairies will be glad to help
Place your order.
We will email you with all the details after we chat.
We bake, decorate and ship your custom cookies.
We love hearing from our customers!
Contact info / Hours
4704 Poplar Avenue
Memphis, TN 38117
(901) 343-0709
Mon-Sat / 10am – 6pm
Closed on Sundays
[Best_Wordpress_Gallery id="5"]
Can I phone or email an order for pick up?
You sure can!  The best way to place an order is through our online ordering system found on our website. However, you can always contact one of our locations by phone or email and a Whimsy Fairy will be happy to assist you with placing an order.  Please be aware that due to high demand for our yummy cookies and during peak holiday times, any custom order placed with our Memphis HQ requires at least a 5 day notice prior to picking up or shipping.
How far in advance should I place my order?
If picking up cookies out of our case the same day, we need a 2 hour window.  If shipping cookies out of our case, we need at least 1 day notice, before they are shipped.  If you need to place a sugar cookie order, we need at least a 5 business day notice before your order can be picked up or shipped.  Any specialty cookies (ie: Gooey Butter cookies, chocolate chip, chocolate chip stuffed wit oreo, and Buttercream sandwiches) ordered online can be shipped in 1 business day. If you need cookies earlier than our policy states, there will be a 20% rush fee applied and must be paid in full before we can process the order.
Do you accept call ahead orders for same day pick-up?
Yes, we do!  You can call ahead at one of our locations and we can pull case cookies for you.    We do ask for a two hour window before picking up. However, we are not able to accept same day pick-ups of our custom orders from Memphis HQ or pre-designed sets online at any of our locations.  We need at least 5 business days notice.
Do I need to pre-pay?
Yes! All orders, whether they are call-ahead order for case cookies, a custom order in our Memphis HQ, Pre-designed sets online, must be paid in full before an order can be booked on our calendar.  However, we do offer a fully stocked case with a variety of different designs and specialty cookies that are available to purchase when you walk-in the store.
Will you have the same sugar cookies every week in your case for walk ins?
Since we make the cutest and absolutely most yummy sugar cookies ever and love to offer our customers a wide variety, we change our designs on a weekly basis.  We will always have our signature Pink and White striped cookies, happy face and swirl cookies along with birthday, girly, manly, holiday and seasonal themed cookies. We have something for everyone!
Can you place a custom sugar cookie order in locations other than our Memphis Headquarter?
Unfortunately, the Memphis Headquarters is the only Whimsy location that produces "one of a kind" custom cookies. You can however, get all of the custom cookie sets listed under ORDER ONLINE in the Whimsy Cookie website, edible images and initial cookies in all of our Whimsy Cookie franchise locations! All Whimsy Cookie locations are here to serve you!
How do I place a custom order?
The best way to get started with a  custom order is through our custom order request form on our HQ page.
How many cookies can I order for a custom order made in our Memphis HQ?
We have a minimum of 12 cookies and a minimum of 3 cookies per shape/design and 1 theme per order. We include 3 colors per order.  Any other colors needed is $1 more per color per dz.
What are your package options?
We offer several package options for cookies: heat sealed bags, cello bags wrapped and tied with ribbon or boxed. 
Do you deliver locally?
Unfortunately, we do not deliver locally at the moment in our Memphis HQ, but our Fayetteville location does deliver.  For other Whimsy locations… Hang tight, we are working on it!
Do you ship nationwide?
Yes!!  We ship all over the US from our Memphis HQ.
What cookies cannot be shipped?
Unfortunately, we cannot ship cookie cakes.  We can ship everything else.
What is the rush fee and when is it applied?
Our calendar books up fast and we need at least 5 business days for an order, however, we do offer the option of expediting an order to get it ready in less time for a fee equal to 20% of your order total. For our sugar cookie orders, because they are so labor intensive, we do require 5 business days + notice, for Whimsy gooey butter cookies, cookie cakes and specialty cookies, we require a one day notice.
What is the earliest I can pick up my order at any location?
At our Memphis HQ, pick-ups are available from 12 – 6 pm, Monday – Saturday.
For all other locations except Memphis HQ, pick-ups are available at 10 am – 6 pm Monday – Saturday and from 12 pm – 6 pm on Sundays. Due to the high volume of pick-orders, if you come early, please note that you may have to wait or come back if your order has not been packaged yet.  If you do not pick up your order the day it's suppose to be picked up, we will hold it for you for one day, after that it will be disposed of and a refund will not be given.
Do you take corporate orders?
We take corporate orders in all locations. If you are wanting a company logo on a cookie, we can make edible image in all locations.  If you need a custom corporate order, which is a custom designed order or hand piped drawing of your company logo, these are only made in our Memphis HQ.
What is your cancellation policy?
Unfortunately, once an order has been placed, paid for and booked on our calendar, we cannot cancel the order.  Since our cookies are made- to-order, all orders are final as this is an edible product. Orders must be picked up at the shop the order was placed. 
Do you give refunds?
If we make a mistake on your order, we will do our best to take care of the issue.  We do not give refunds for broken cookies, bleeding colors of icing, colors not being exact, cookies sitting in a hot car, wrong address given, weather conditions, etc as they can still be eaten and enjoyed. 
SHIPPING POLICY
Whimsy uses FedEx to ship online orders.  We do not require a signature when left on your door. Once cookies leave our shop and in the hands of the shipper, we are not responsible for the following:
Broken cookies

icing colors bleeding, which is the result of weather conditions/humidity or cookies being left or stored in a hot or cold place.

Lost or stolen packages

Weather conditions

Wrong addresses given to Whimsy

Edible images coming off due to weather conditions/humidity
Can I get mock-ups of our cookies before an order is placed?
Unfortunately, we do not do mock ups.
Allergen Statement
All of our cookies are made in a kitchen that handles dairy, egg, tree nuts, wheat, peanuts, soy. Please note that we cannot guarantee that any of our menu items are free of allergens because we share equipment and handle common allergens throughout our bakeries.  Ultimately, it is the responsibility of the consumer to check all ingredients. 
What if I still have questions?
Give us a call or send us a message. All our contact information is here.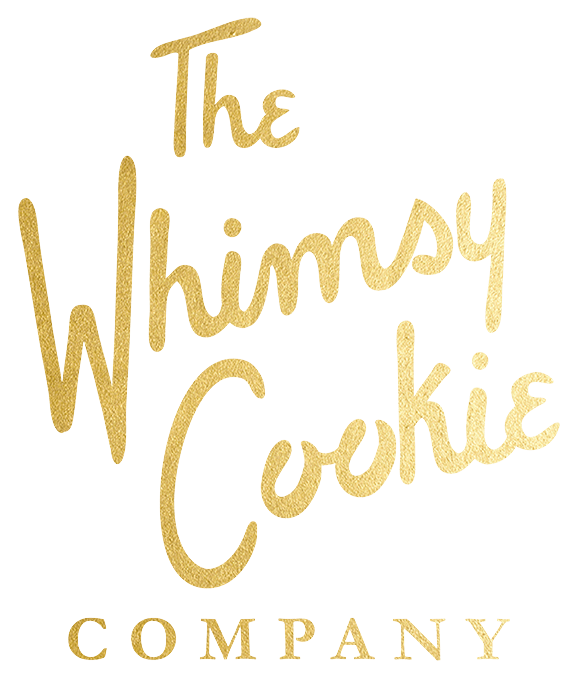 WHERE TO FIND US
ARKANSAS
401 S. Bowman Rd. Ste B
Little Rock, AR 72211
(501) 400-8154
2410 N College Ave #2
Fayetteville, AR 72703
(479) 249-8906
TENNESSEE
4704 Poplar Avenue
Memphis, TN 38117
(901) 343-0709